Back to overview
The impressive growth path of Teamleader : from start-up to scale-up
"Fortino gives advice and also lets go. That works for Teamleader"
Over the space of ten years, B2B SaaS scale-up Teamleader grew to 15,000 customers, 180 employees and an annual turnover of EUR 20 million. "Fortino was a catalyst in this growth trajectory. It brought expertise, encouraged us to think bigger and yet also let us run our own business," Teamleader CEO Jeroen De Wit says about the intense collaboration.
Duco Sickinghe, Managing Partner of Fortino Capital and Jeroen de Wit, CEO of Teamleader, were on the stage together at the Bloovi Entrepreneur Summit. This duo, with a 30-year age difference, looks back on the past eight years. The interview shows nicely how Fortino invests and lets start-ups develop into scale-ups with international potential.
"I remember my first pitch at Fortino Capital really well," says Jeroen de Wit. In 2014, Jeroen had graduated from college just two years previously when he came knocking on Fortino's door. In that short time, with fellow students Willem Delbare and Mathias De Loore, he had grown Teamleader, a start-up, into a company with a strong CRM product for small businesses, 350 satisfied customers, eight employees and a break-even result.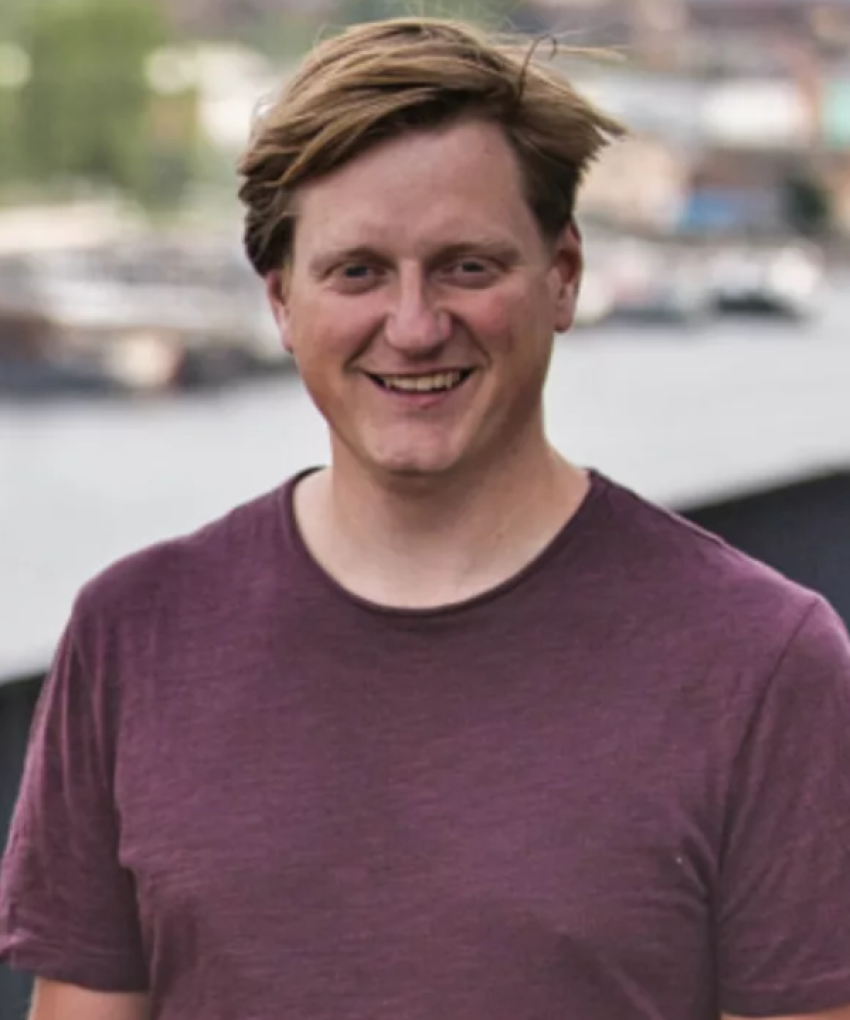 "I had heard that Fortino had a lot of experience and a big network. We have to try to get in there." thought Jeroen. "We already hit it off at our first interview. Renaat Berckmoes (Co-founding of Partner Fortino) and Duco Sickinghe were impressed."
"Renaat told me 'I've found something very special. This is totally different. You have to talk to Jeroen'. And I did." Duco went to talk and it turned into a long conversation.
A good business plan to start with
The partnership between Fortino and Teamleader was not going to be a classic story of an investor giving money and then watching from the sidelines, applying pressure and collecting an annual dividend. That was apparent immediately, even before Fortino officially stepped in. "From the first conversation, it was clear that our business plan needed improving, looking ahead to the next three years. We didn't have this because, as a start-up, we were first trying to survive a day, then a week, then a month and then a quarter," says Jeroen. "Fortino was going to send someone to help us. A few days later, Dirk Wauters, the ex-CEO of VRT, showed up on our doorstep. He co-wrote a better business plan that won Fortino over and would allow Teamleader to grow substantially. This first gesture was important to me. Fortino was already investing time and expertise in us, with no guarantee of a return which immediately created trust. I was curious to see what would ensue."
"A good business plan is crucial for getting started. We like entrepreneurs who have a clear understanding of what problem they're solving for their customer," Duco underlines. "And we observe the little things: how people work with each other, the atmosphere at the office, how we're welcomed, how people look at each other and what is not said. This was all good at Teamleader, though."
Investment with advice
And that's how Teamleader's train picked up speed. It was a rollercoaster ride, going from 350 to 15,000 customers, during which time Jeroen and his team took every opportunity to seek advice. "As a start-up, you have questions every day," says Jeroen. "We had little contact in the beginning until I asked Duco to get more involved with us. We decided to visit start-ups together in New York. This trip brought us together and created our common frame of reference."
Duco goes on to explain: "I got to know Jeroen as an honest guy who also shared his doubts. Being 'brutally honest' is the way to get people to believe in you. I also say I don't know at times. And whatever I do: I tell the bad news first. If you share the negatives about yourself, the other party doesn't have to find out behind your back. Then there's room for all the positive things."
Fortino takes a coaching role throughout. "When I asked for advice, I got it. And you often asked questions that got me thinking," Jeroen tells Duco. "But sometimes I got very quiet, retreated into my business and gave few updates. What I liked about that is that you let it happen."
And making mistakes, is allowed, according to the Fortino team: "You cannot deny an entrepreneur-CEO the right to make mistakes. You shouldn't point out every potential slip-up along the way. On the contrary. Sometimes you have to let the CEO hit the wall. Everyone learns most from their own experiences and mistakes. As long as the company is not hitting the rocks, that's the best thing. Sometimes companies find themselves in a difficult phase. That's part and parcel. My advice: let them solve it themselves."
When the CEO grows, the company follows.
People are crucial in this whole trajectory, both for investor and scale-up. And good to know for the CEO: they don't have to be perfect if they work with complementary talents. "Everyone has their place in this world," Duco says. "Sometimes you start with a CEO, but you're not the best person to take it to the next level. Sometimes you step in later."
"The CEO stays and grows as well. Or better still, has to take the company in tow. Every year, Jeroen told me what he was going to do differently that year and who he was going to talk to. When I hear how Jeroen will continue to grow in the coming years, I know Teamleader has a bright and international future ahead of it."
If you're a Europe-based B2B SaaS company looking for advice and potential investment, we can help. Get in touch, and let's get the conversation started.
Related portfolio companies