Back to overview
The CEO Summit inspires, motivates and supports CEOs to grow their businesses faster: 5 lessons learned
Sixty CEOs gathered for inspiration and networking events at Fortino Capital's CEO Summit in Amsterdam. Outside, it was grey and wet. Inside the Andaz Hotel, advice, inspiration and bright optimism flowed from CEOs and investors of strong growth companies.
"At this CEO Summit, we like to share what has worked in our most successful businesses," Duco Sickinghe opens the meeting, which Fortino is organising for the CEOs of the businesses in its portfolio.
"In your business, I encourage you to focus fully on your customers," Duco advises. "Ask yourself the question: Who are they? What are their needs? What problem do you solve for them? Remember that you don't have to find a unique solution for everyone, only for a very specific group of people or businesses. Be that unique crossroads for them that they have to pass and cannot drive around."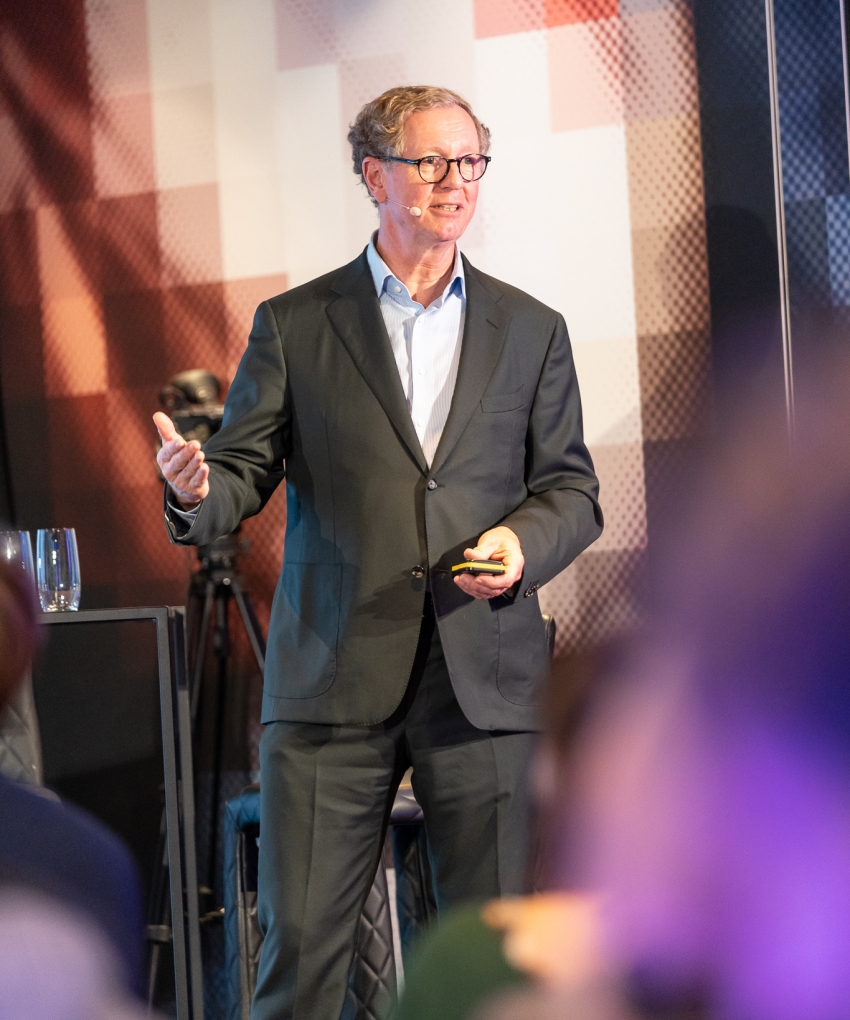 Value of Fortino's expertise and network
Start-ups and scale-ups which Fortino does not yet invest in were also welcome to meet the investors and community. "We're currently talking to several investors," says one of the participants. "Money is important, but I don't want to run the risk that we don't click on a human level. That's why I was happy to go to this CEO Summit."
"It's a unique opportunity for me to get to know Fortino better. When I see Duco Sickinghe and Jeroen De Wit (CEO of Teamleader) together on stage, I feel Fortino's added value. I can hear first-hand how Fortino's expertise and network helps companies grow. This also sounds very interesting for us. And between the keynotes and in the evening, I can find out from other CEOs what Fortino is really like. And who knows, we might then decide to organise further talks with Fortino."
Community shares openly and honestly
On and off the stage, experienced entrepreneurs shared a lot of inspiration, best practices and advice with their colleagues.
We've compiled five lessons from as many keynote speakers who inspired the audience to make their businesses even stronger:
1. Unleash people's talent
"I believe in the unlimited potential of people," said John Reynders, Benelux Area Director at Visma, during his keynote. "All you have to do is find out what this talent is and unleash it. That's why we preserve the different brands and cultures of the now more than 170 companies we've incorporated in the Visma group.  In this way, we want to be Europe's largest scale-up. Through technology, we want to do our bit to solve the problems facing the world and thus help create the future."
2. Preserve the culture of acquired companies
Stephan Sieber, CEO at Transporeon gave more advice on acquisitions:
"The work is not done when the acquisition contract is signed. That's when the real work starts. Use the existing culture and talent of the company you're acquiring. Nurture them. Give the employees of the acquired company the opportunity to preserve the culture that makes them successful. Let the new talents you bring in do what they do best. The challenge lies in finding the balance between preserving their culture and merging it with the culture of the bigger picture."
3. Cherish your (first) customers
Ever enthusiastic Nick Mehta, CEO at Gainsight, gave a ZOOM keynote from Silicon Valley, about his customer success strategy:
"Cherish the enthusiasm of your first customers. They're often very enthusiastic and motivated to innovate. Put them on stage. Let them share their story. Give them visibility. Focusing on your existing customers is also interesting in terms of sales strategy in these times when it's less easy to land new customers and when existing customers are trying to reduce their SaaS costs. Help them sell your products to their boss by calculating and clarifying the return on investment for them."
4. Be challenged by the board
The keynotes also showed that the Board of Directors can often be stimulated into an active and valuable helping hand. One of the people to speak about this was Jeroen De Wit, CEO of Teamleader:
"I used to meticulously prepare my presentations for the Board of Directors. I wanted to be able to answer any question. Until I realised that, for me, the meetings were not interesting or instructive. I didn't ask questions myself. I didn't allow myself to be challenged. When I created space for this, I discovered how board members could actively contribute to my growth and the company's. Since then, board meetings are no longer a one-man show. I give the floor to several business unit managers and toward the end of the meeting we brainstorm on a number of concrete action points."
5. Set up procedures and follow them
Edouard Fourcade, Fortino consultant and former EMEA general manager at Anaplan, emphasises at the end of the first Summit day that there is no room for failure.
It's like Formula 1. Only winning counts. You have to be the first to cross the line. And you can only do that if you work out procedures and follow them meticulously, just like during pit stops in Formula 1. A procedure tells everyone exactly what their job entails, how it should be carried out and what the consequences are for others if it's not done properly. This is the way to make things happen."
After the two-day CEO Summit in Amsterdam, the CEOs returned to their companies with more expertise, a bigger network, inspiration and tools that will help them grow faster. "Remember that it's mostly about people and less about money," Duco concluded. "You have access to our strong Fortino team every day. Ask them your questions and tap into their expertise."